Mumba Bra
One Bra
Mumba have put so much thought into this one bra, with the reality of pregnancy and breastfeeding in mind. Because as a mum, you need all the support you can get.
The Mumba Bra is very comfortable and adjusts as you grow from pregnancy to nursing. The drop cup opening allows for easy one-handed release and discreet feeding once open.
Unique Clasp
Never forget which breast to feed from next with the Mumba Clasp reminder. No more mobile apps, moving bracelets from wrist to wrist or relying on your overworked memory. The Mumba clasp is with you always, ready to support you.
Baby Focus Print
Watch your baby's eyes transfix to the BabyFocus print and be soothed with every feed. Mumba understand that "It Takes Two To Breastfeed"™ and your baby's contribution to successful breastfeeding is just as important. The BabyFocus® print has been designed purely for your baby, to stimulate and focus your baby whilst feeding, helping them take to the new experience of breastfeeding.
Introducing the Mumba Bra
The Mumba Bra is unlike any other nursing bra. Designed to address some of the most common breastfeeding problems.
Created by mum of two Elizabeth Morana in response to her own initial struggles with breastfeeding, the ground-breaking bra and patented design has been carefully developed to support mums from pregnancy through to nursing.
Bra Sizes Guide
Our amazing seamless maternity and nursing bras are designed to grow with you. So as your body and bust changes, your Mumba Bra responds with total comfort and flexibility. Meaning that you can wear it from any stage of your pregnancy right through to nursing.
We know what you're thinking... "How is that possible?" Well the Mumba Bra is made from luxuriously soft, super stretchy and supportive fabric. So that they're extremely flexible in expanding with your bump, but sturdy enough to give you support when you need it most.
One size will take most mums throughout her pregnancy. Your Mumba Bra can therefore be worn as a maternity or nursing bra.
So, what are you waiting for...? come and join the Mumba Bra revolution.
Maya Seamless Bra Size Chart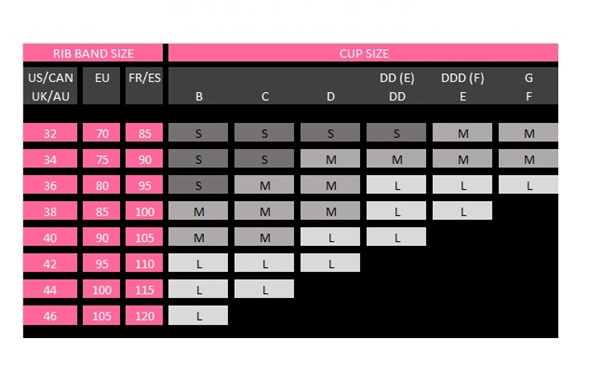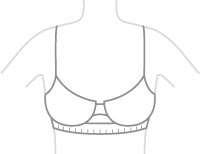 Determine your band size
Determine your band size (i.e. 32, 34, 36, 38, etc). To do this, measure yourself around by bringing the measuring tape around your rib cage underneath the bust line, making sure the tape measure is flat and straight across your back. Pull the tape nice and tight (remember that a bra will stretch, but a tape measure doesn't).
If you measure between two numbers for example 34.6 inches, then round off to the next whole number example 35 to get your band size.
Now refer to the chart below to determine your band size.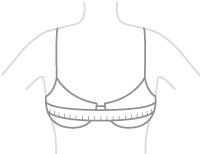 Determine your cup size
Now find your cup size by measuring across the fullest part of your bust (this time the tape measure doesn't have to be tight). Measure your bust at its fullest part; make sure that the tape measure is even across the front and back and not twisted. Again, round off to the next whole number.
All you need to do now is to take away the rib band measurement from the cup size measurement. Each number or inch represents one letter. Refer to the table below.
For example, if your rib band is 32 inches and your cup measurement is 34 inches; 34-32 = 2, 2 equates to a B cup (1=A, 2=B, 3=C, ). So, your recommended nursing bra size is a 32B

Use your recommended size to see which Mumba Bra size you require, Small, Medium or Large. Example 32B would be a Small.